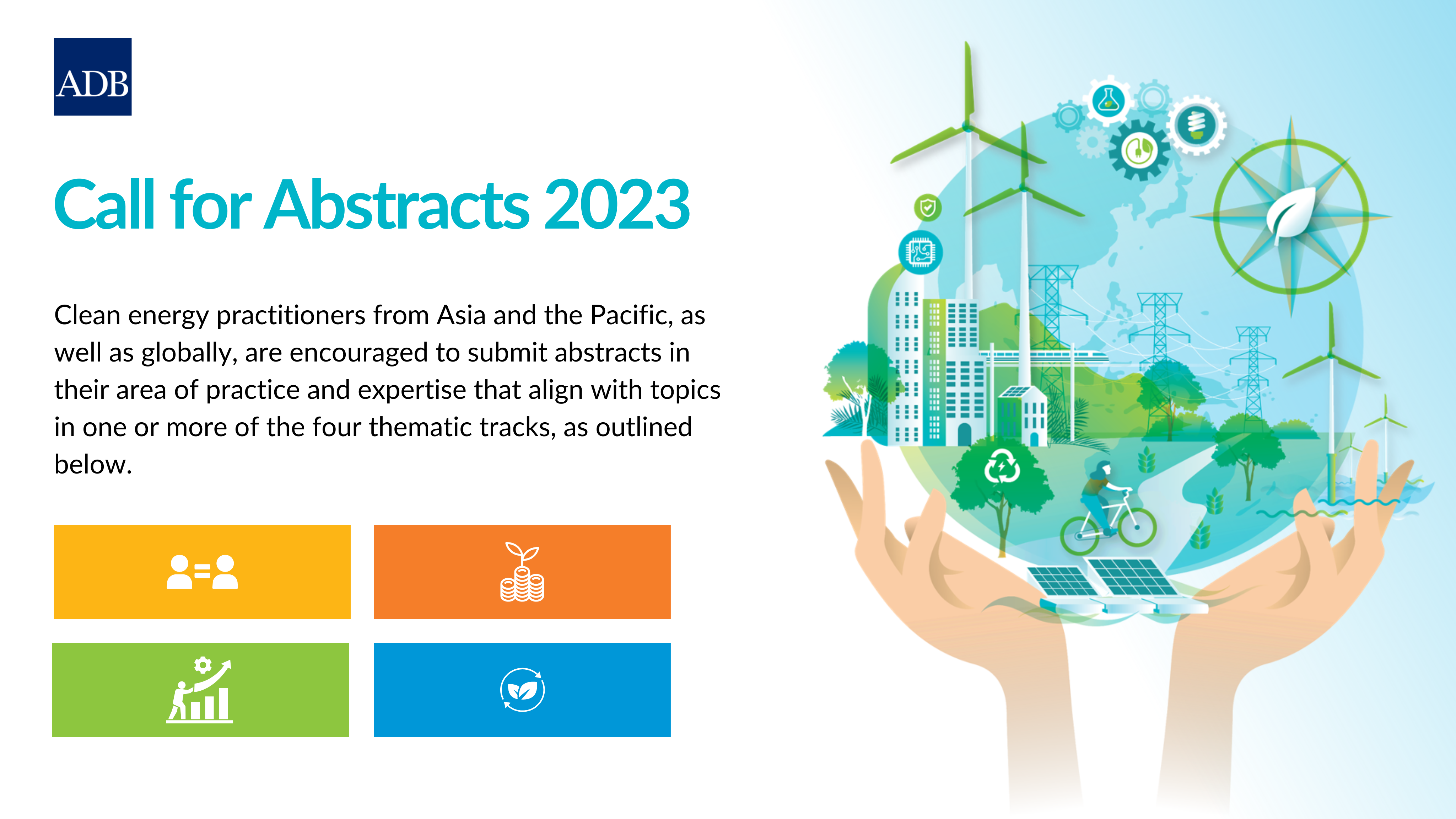 (Now Closed)
About ACEF 2023
ACEF 2023 will be a 4-day in-person event to be held at ADB Headquarters in Manila on the week of 13–16 June 2023. The Forum will comprise a diverse set of discussions, including Thematic Track Sessions, Deep Dive Workshops, Spotlight and Regional Sessions, and Plenary Sessions. Each day will be organized into morning sessions that will run from 09:00 a.m. to 12:30 p.m., and afternoon sessions from 2:00 p.m. to 5:30 p.m.
ACEF 2023 will be guided by the theme: Navigating toward a Carbon-Neutral Future through Clean Energy Solutions.
ACEF 2023 aims to deliver practical knowledge, increased awareness, and opportunities for collaboration to a range of clean energy stakeholders and practitioners from across Asia and the Pacific. The intended audience comprises public and private sector entities, academic and researcher institutions, and other stakeholders. The four days of ACEF are packed with a full and diverse agenda in the plenary sessions, panel discussions, deep-dive workshops, and thematic track sessions. Ultimately, ACEF 2023 aspires to have the following impacts in the region:
Improved governance approaches, regulations and policies, and energy planning methodologies among ADB developing member countries, with the aim to address the barriers to clean energy development and create enabling conditions for increased private and public sector investment into carbon-neutral technologies and systems.
Increased the development of innovative clean energy initiatives and business models that mitigate emissions of greenhouse gases (GHGs) and foster adaptation to climate change, while enabling more inclusive and sustainable socio-economic development and climate adaptation.
Increased private sector participation and leadership in the delivery of clean energy innovation, through the development and incubation of new businesses; transfer of business practices and technology; and a significant acceleration in clean energy financing and investment.
Clean energy practitioners from Asia and the Pacific, as well as globally, are encouraged to submit abstracts in their area of practice and expertise that align with topics in one or more of the four thematic tracks, as outlined below.
Thematic Tracks
Thematic Track 1: Gender Equality in Clean Energy Development
Gender and the energy transition are closely linked, as access to reliable and affordable energy is a key factor in empowering women and promoting gender equality. Gender equality in clean energy development increases the relevance and impact of interventions in the grassroots. At the same time, however, the energy transition presents specific challenges and opportunities for women. This track will focus on how a gender-responsive energy transition can help to address these issues and create new opportunities for women. Greater participation of women at all levels, and their increased participation in leadership roles in organizations can improve overall performance. In this track, we will encourage greater participation of women in the clean energy work force and highlight lessons and examples that can be used to recruit more women into clean energy. Topics discussed in this Thematic Track can include:
Women in the energy work force and leadership roles. How can we encourage greater participation of women in the clean energy work force and leadership roles, and what lessons and examples can we draw on to recruit more women into clean energy? ACEF is a great opportunity to highlight successful women leaders and inspirational examples.
Gender-responsive energy policies and programs. Considering the perspectives of women and responding to their needs result in effective and inclusive development interventions. What have been the lessons learned from policymaking and implementations, and how can gender equality be better instilled in clean energy development?
Training and building capacity for women in the energy transition. Training and educational programs can empower and encourage women to take advantage of opportunities in the energy transition.
Thematic Track 2: Private Sector for Clean and Efficient Energy Innovations
The limited availability of financial and human resources calls for improving the efficiency of resource allocation, devising innovative business models, leveraging financing, and supporting technology transfer. The private sector plays a key role in the clean energy transition given the market dynamics of rapidly declining costs of clean and efficient energy technologies and services, and the development of innovative new business delivery models. Comprehensive approaches combine different strategies to mobilize private sector investment and know-how, and to encourage technology transfer that will help drive the clean energy transition. Topics discussed in this Thematic Track can include:
Public-private partnerships (PPP) in clean energy. A PPP approach can encourage private sector investment and technology transfer, aggregation of demand for clean energy technologies, and procurement of clean and community-based energy resources;
New business models and approaches. New approaches can take advantage of the growth in the clean energy market by offering digitized or AI-based energy efficiency services, developing energy storage solutions, and creating new financing mechanisms for clean and efficient energy projects;
Accelerating private sector clean energy investment. What are some successes to date? How can we encourage replication? What are some of the remaining barriers and how can we fill the gaps to accelerating private sector investment in clean and efficient energy projects and technologies?
Incubators for clean energy innovation. Over the past decade, there has been a proliferation of efforts to incubate and support early stage start-ups and entrepreneurs in the clean energy field. What have we learned over this period about which approaches work, and did not work? What are some of the best practices that can be shared with the ACEF community?
Thematic Track 3: Energy Efficiency for the Energy Transition
Energy efficiency is the so-called first fuel for the energy transition. Maximizing its potential can support growing economies with the same amount of energy currently being used, thereby contributing to energy savings and emission reduction, lowering energy bills, creating new jobs, improving industrial productivity, and strengthening energy security by decreasing fossil fuel imports. Unfortunately, energy efficiency is often not given the attention and resources it deserves, despite its impact and cost effectiveness. To fully realize the potential of energy efficiency, a comprehensive approach is needed that includes government policies, regulations, standards, and incentives, as well as education and awareness campaigns. Topics discussed in this Thematic Track can include:
Innovations in energy-efficient technologies. What are the latest developments in energy efficient technologies such as building retrofit, energy storage, and smart grid technologies?
Status and Opportunities for DSM in Asia and the Pacific. What is the current status and likely future trends in utility-led DSM and other demand response programs in the region?
Innovations in Energy Efficiency for deep decarbonization. How are innovations in business models, digital technology and artificial intelligence, and financing approaches for energy efficiency helping to drive decarbonization in power, heating and cooling, and industrial sectors;
Enabling Conditions and Drivers for Energy Efficiency. These conditions can include the role of government policies, regulations, standards, incentives and communication, as well as private sector initiatives in promoting energy efficiency.
Thematic Track 4: Innovative and Resilient Renewable Energy
Innovative renewable energy technologies and business models can facilitate access to electricity, improve energy security, and accelerate the energy transition. Renewable energy systems are also generally more adaptive and help communities increase their resilience to the intensifying natural calamities linked to climate change. With the rapidly increasing availability of low-cost mainstream renewable sources, such as solar and wind power, it is clear that renewable energy will play an even more important role helping countries achieve their climate targets (NDCs—or nationally determined contributions). Topics discussed in this Thematic Track can include:
Current status and future trends in renewable energy in Asia and the Pacific. Examples of the discussions could include distributed renewable energy, convergence between renewable energy and transport in the area of e-mobility; increasing usage of energy storage (battery storage and also pumped hydro); and the use of renewable energy for heating and cooling across all sectors (e.g. buildings and industry);
Innovative business models and financing mechanisms for renewable energy. This includes models for utility-scale and distributed renewable energy as well as renewable use for power, heating and cooling in buildings and industrial sectors;
Digitalization of renewable energy systems. Digitalization of renewable energy systems can optimize their operation in multiple ways, including the use of energy storage, switching between energy sources to take advantage of time-of-use rates, and other ways;
Evolution of the mini-grid. Mini-grids and micro-grids are an aggregation of demand (e.g., in village or even an industrial estate), and for remote, off-grid areas, distributed renewable energy systems (DRES) are increasingly being used to generate electricity as part of a microgrid a few off-grid, distributed energy generation sources to power that demand. What has been learned in recent years about how to accelerate the deployment of mini-grids as a tool for electrification, rural development, and income generation?
---
Guidance for Development of Abstracts
Submissions should be based on successful experiences and lessons learned in designing, implementing, and evaluating projects, programs, initiatives, and business models.
Abstracts should focus on clean energy solutions that are more practical and implementation-oriented than theoretical
Abstracts should fit into the four Thematic Tracks, while also addressing the 7 Operational Priorities in ADB's Strategy 2030.
The same abstract submitted under more than one thematic Track shall not be accepted.
Each abstract must be no more than 150 words.
The deadline for submitting the abstract is 3 March 2023 at midnight GMT+8 (Manila Time).
For more information about ACEF, you can sign up to receive updates from our newsletter or follow us on Twitter, LinkedIn, and on Facebook. If you have any questions, you may contact us at acef@adb.org.