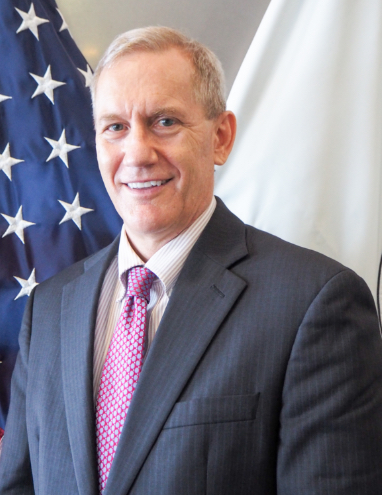 ACEF Speaker 2021
Steven G. Olive
Mission Director,
USAID/RDMA
Steve Olive serves as the Mission Director for the Regional Development Mission for Asia (RDMA) since August 2020. He joined USAID in 2000 and is a career member of the Senior Foreign Service.
From 2018 to 2020, he was the Senior Deputy Assistant Administrator for USAID's Latin America and Caribbean Bureau, often serving as its Acting Assistant Administrator. In 2017-18, he was the Acting Director of the Foreign Service Center in the Office of Human Capital and Talent Management. At USAID/Kenya and East Africa based in Nairobi, he served as the Deputy Mission Director for Somalia from 2014 to 2017. He concurrently served as the Acting Deputy Chief of Mission and occasionally as the Chargé d'Affaires for the U.S. Mission to Somalia from 2016 to 2017.
Before USAID/Kenya and East Africa, Dr. Olive served as a Deputy Mission Director for USAID/Haiti from 2011 to 2014 leading post-earthquake reconstruction and development efforts. He also was posted in Peru and Nicaragua from 2002-2011 managing environment, trade, agriculture, food security and emergency-response programs. Dr. Olive also worked in Hawaii, the Philippines, Guam, and American Samoa as an environment and natural resource management and policy specialist. He earned a Ph.D. in Political Science from the University of Hawaii where he was an East-West Center scholar, a Master's in Public Administration from the University of Tennessee, and a Bachelor of Arts in Public Administration from Miami (Ohio) University. He is married to Cristina Olive, also a USAID Foreign Service Officer, and they have a son.
Session/Event:
From Dreams to Reality: Achieving NDCs through Power Sector Planning and Implementation (USAID, NREL, IEA, GIZ)
Spotlight Session: Regional Partnerships to Advance Energy Priorities (USAID, DFC, JICA, The Rockefeller Foundation, EFA)
Closing Plenary: Collective Action for Low-Carbon, Sustainable Development
---