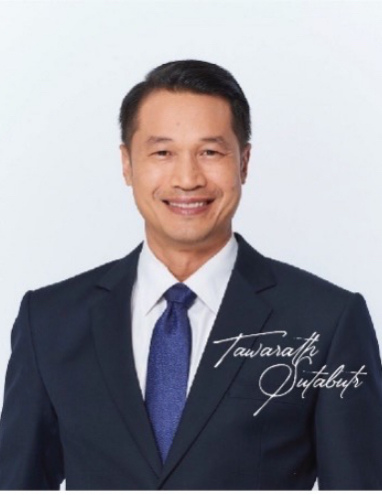 ACEF Speaker 2021
Twarath Sutabutr
Chief Inspector-General,
Ministry of Energy, Thailand
Dr. Twarath Sutabutr is Chief Inspector-General attached to the Ministry of Energy since October 2018. Dr. Twarath has experiences in a wide range of energy policy coordination and initiatives such as renewable energy, energy efficiency and international energy cooperation. His other current positions include Board of Directors of PTT Exploration and Production Public Company Limited (PTTEP) and (National Security and Dual – Use Technology Center.
Prior to this current position, he served as Director-General of Energy Policy and Planning Office (EPPO) from 2015 and Deputy Permanent Secretary from 2014 and Deputy Director-General of Department of Alternative Energy Development and Efficiency from 2009 to 2014. Moreover, when he served as Director of Policy and Strategy Coordination Office, he assumed parts of the work with National Economic and Social Development Board in energy infrastructure development planning, and involved in liberalization of electricity and natural gas sectors, which led to his strong relationship with major energy players in Thailand such as Energy Generating Authority of Thailand (EGAT) and PTT Public Company Limited, resulting in the successful development in such energy sectors.
Dr. Twarath holds Sc.D. in Civil and Environment Engineering from Massachusetts Institute of Technology (MIT), USA, Master of Geotechnical Engineering from Asian Institute of Technology (AIT) and Bachelor of Civil Engineering from Chulalongkorn University, Thailand.
Session/Event:
Deep Dive Workshop: Finance to Accelerate Energy Transition in Asia and Pacific: Public Sector Initiatives and Good Practices of Private Sector (ADB, Japan METI)
---