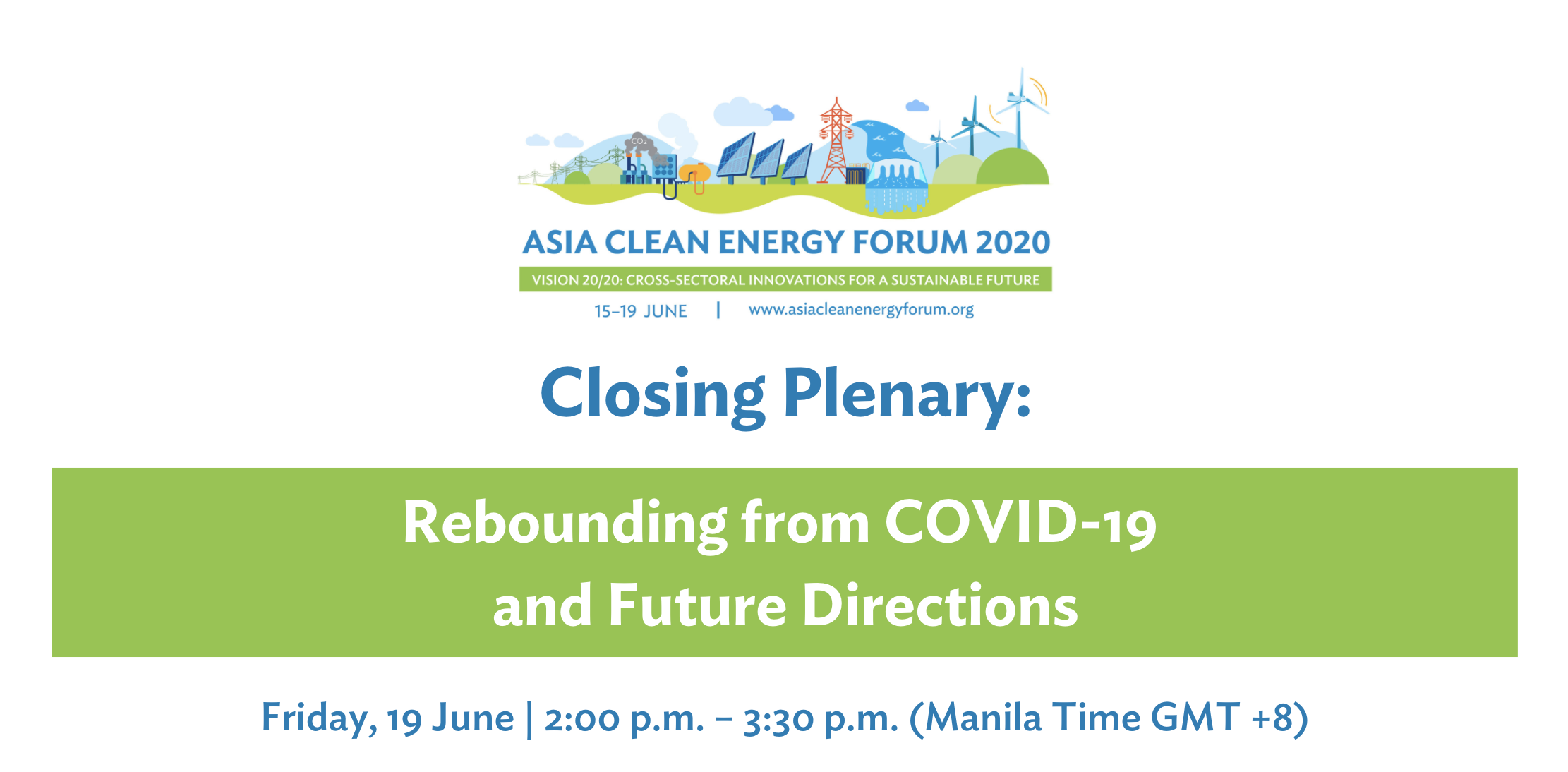 The Closing Session grappled with the issue of how Asia's developing economies recover from the COVID-19 pandemic and move forward. The session included keynote talks, messages from key ADB partners, and a panel discussion on future directions for the energy sector.
---
Session Moderator: David Elzinga, Senior Energy Specialist, Asian Development Bank
Virtual ACEF 2020 Summary Video
A short video highlighting the key messages and takeaways from discussions during ACEF week.
Keynote Speakers
Armida Salsiah Alisjahbana, Under-Secretary-General of the United Nations and Executive Secretary of ESCAP
Dr. Ilan Noy, Chair in the Economics of Disasters and Climate Change, Victoria University of Wellington
Looking Forward to COP 26 and USAID Announcement of Water and Energy for Food Ag-Energy Prize
Lord Callanan, Minister for Climate Change and Corporate Responsibility, UK Government (Recorded Message)
Juniper Neill, Deputy Mission Director, Regional Development Mission for Asia at USAID (Recorded message)
Panel Discussion: Future Directions for the Energy Sector
How are energy needs changing in ADB's DMCs?
Does ADB need to change its approach to DMC energy lending?
What do we need to do now to head in the right direction?
Panel Moderator: Ashok Bhargava, Director Central Asia Energy Department and Chair of the Energy Sector Committee, ADB
Hongpeng Liu, Director, Energy Division United Nations Economic and Social Commission for Asia and the Pacific
Dr. Ilan Noy, Chair in the Economics of Disasters and Climate Change, Victoria University of Wellington
Priyantha Wijayatunga, Energy Director, South Asia Regional Department, Asian Development Bank
Sujata Gupta, Director, Sustainable Infrastructure, East Asia Department, Asian Development Bank
Closing Remarks
Bambang Susantono, Vice-President, Knowledge Management, Asian Development Bank