Background
The term "Evidence-based communications" related to the energy transition is often understood and practiced as using hard facts and science (the "evidence") to communicate the immediate need to transition to clean, low-carbon energy. Such communications are typically used to "convince" different target groups of the necessity for action rather than to "inform" actions, decisions, and strategies to drive the energy transition. In many programs funded and implemented by donors, philanthropies, civil society organizations and others, communications activities are typically treated as an "afterthought" and a means to enhance visibility.
By broadening this perspective and looking at communication as a means to achieving project objectives and advancing the Energy Transition, the term "evidence-based communication" gains a new dimension. Evidence-based communications can be a powerful driver of the energy transition if designed and developed using evidence-based communication approaches and strategies. Understanding the communication environment and landscape, analyzing conversations through social listening and crafting messages that tap into communication and conversation trends, can help advance policy, support project monitoring and evaluation, drive targeted engagements and action, and attract donor funding to aid program sustainability.
Objectives
To highlight the underutilized potential of evidence-based communications in energy transition;
To understand what defines evidence-based communications;
To showcase regional transition programs that capitalize on evidence-based communication as key component and driver of the program;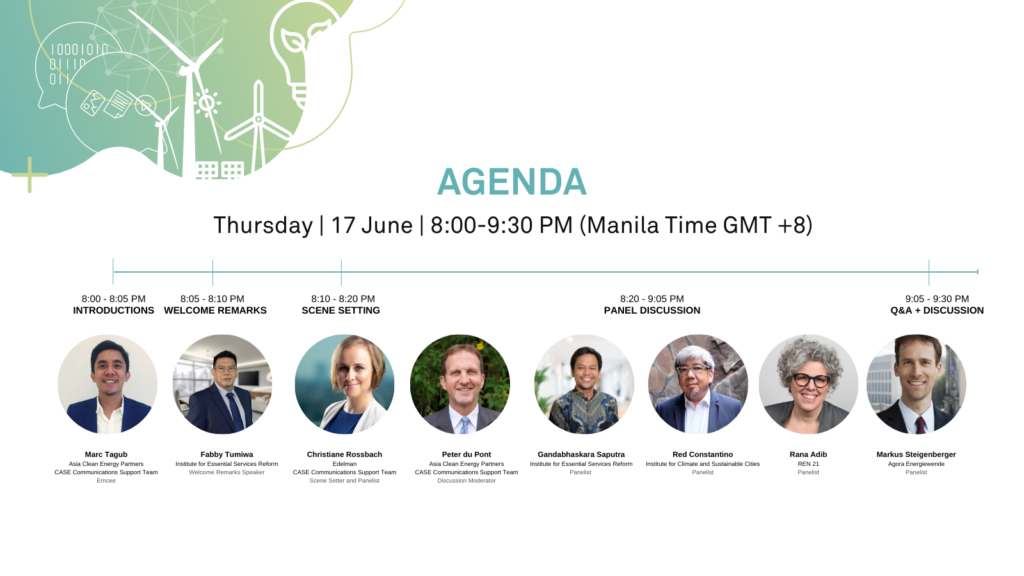 This Side Event will begin with a presentation of the evidence-based communications approach being used by GIZ in its Clean Affordable and Secure Energy (CASE) Program, which covers Indonesia, the Philippines, Thailand and Vietnam. This will lead into a panel discuss with members of the CASE Consortium as well as other communications experts working on energy transition projects across Asia. Full agenda under discussion.
Emcee
Marc Tagub, Asia Clean Energy Partners, and Co-Lead CASE Communications Support Team
Welcome Remarks
Fabby Tumiwa, Institute for Essential Services Reform (IESR), Indonesia
Scene Setter
Christiane Rossbach, Co-Lead CASE Communications Support Team (Edelman Indonesia)
Panel Discussion
Moderator:
Peter du Pont, Asia Clean Energy Partners, and Co-Lead CASE Communications Support Team
Panelists:
Red Constantino, Institute for Climate and Sustainable Cities (ICSC), Philippines
Fabby Tumiwa, Institute for Essential Services Reform (IESR), Indonesia
Rana Adib, Executive Director, REN 21
Markus Steigenberger, Deputy Executive Director/ Head of International Energy Policy, Agora Energiewende
Christiane Rossbach, Co-Lead CASE Communications Support Team (Edelman Indonesia)
Gandabhaskara Saputra, Institute for Essential Services Reform (IESR), Indonesia
About Organizers
GIZ – CASE Programme
The Deutsche Gesellschaft für Internationale Zusammenarbeit (GIZ) GmbH is a federally owned enterprise of the German Government that provides services in the field of international development cooperation in more than 120 countries around the globe. On behalf of the German Federal Ministry for the Environment, Nature Conservation, and Nuclear Safety (BMU), GIZ is implementing Clean, Affordable and Sustainable Energy for Southeast Asia (CASE) programme from 2020 to 2024.
CASE will be implemented by a consortium along with a number of other programmes as part of the Energy Transition Partnership (ETP), a larger support effort with a multi-donor approach aiming at scaling and improving efforts to coordinate technical assistance efforts on clean energy in the region. The program aims to support a narrative change in the power sector towards an evidence-based energy transition that robustly supports the region's development strategies as it pursues Paris Agreement goals. The programme makes use of available research initiatives while generating new evidence grounded in local realities that can influence economic managers, power sector decision makers, industry leaders and electricity consumers to support early, speedy, and responsive strategic reforms in the power sector. CASE is jointly implemented by GIZ and international and local expert organizations in the area of sustainable energy transformation and climate change, and is part of a global coordinated effort to support SEA countries in the ongoing energy transition process.
This Side Event is organized by CASE, particularly by the CASE Communications Support Team, which is a consortium of Edelman and Asia Clean Energy Partners (ACE Partners). Edelman is a global communications firm that partners with businesses and organizations to evolve, promote and protect their brands and reputations. Asia Clean Energy Partners Limited is an international firm that provides consulting and advisory services related to the energy sector. The firm works to support the acceleration of clean energy deployment, to achieve greater speed and greater scale, with a focus on markets in Asia and the Pacific.
Point of Contact
Pacharaporn Kroekkultorn,
Communication Officer – Energy Office,
Deutsche Gesellschaft für Internationale Zusammenarbeit GmbH (GIZ)
Email: pacharaporn.kroekkultorn@giz.de
Marc Eliemel Tagub,
On behalf of CASE Project
Email: marc.tagub@asiacleanenergypartners.com