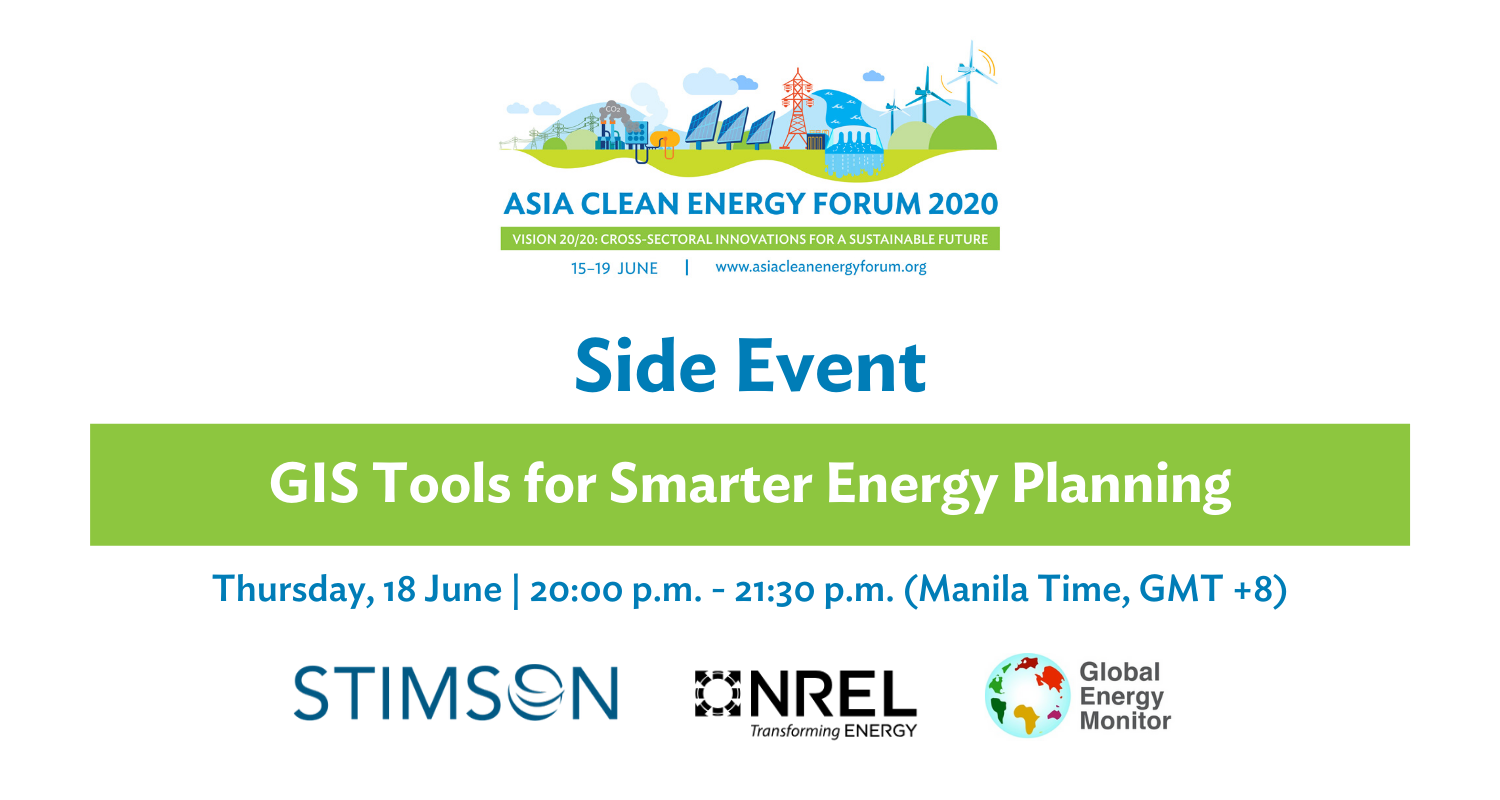 Background:
Transitioning to a sustainable energy future requires considering how energy intersects and interacts with other sectors. Multi-sector planning benefits from geographic information system (GIS) tools, which can map energy infrastructure against other infrastructure, key environmental indicators, and socio-economic data. Doing so can identify risks, opportunities, and comparisons of costs and benefits across different project portfolios.
Join us for an introduction to existing GIS tools from the Stimson Center, the National Renewable Energy Institute, and Global Energy Monitor. Each of the tools includes high-quality and extensive data on power generation projects as well as other additional layers and criteria, ranging from air pollution and carbon emissions to resilience to socio-economic and environmental considerations.
Objectives of the Session
Introduce ACEF participants to existing, open source spatial tools that contain high-quality regional and global energy data and are freely available to all stakeholders
Explore how these GIS-based tools can help provide context on risks, impacts, and multi-sector considerations
Learn about how multi-sectoral considerations can support national energy planning processes, investment decisions, project design and planning prior early on in the process
Attendees all have free access after ACEF ends to the tools, data, and organizations which present during this side event
About the Organization
The Stimson Center is a mid-sized think tank that delivers pragmatic policy solutions for transnational development and security challenges. Stimson is among the top 20 think tanks in the United States. Stimson's Southeast Asia program has since 2005 been recognized as a policy leader on the water-energy-food nexus, sustainable infrastructure development, and natural resource management in the Mekong region. Stimson engages stakeholders at the policy level to promote dialogue on effective management of shared resources, advance sustainable development alternatives, and disseminate best practices in sustainability. Stimson is also one of four consortium members of USAID's Mekong Safeguards project, a five-year project (2018-2023) tasked to engage with stakeholders in the Mekong Basin to mitigate the environmental and social impacts of infrastructure projects in the Mekong Basin.
The U.S. Department of Energy's National Renewable Energy Laboratory (NREL) focuses on creative answers to today's energy challenges. From breakthroughs in fundamental science to new clean technologies to integrated energy systems that power our lives, NREL researchers are transforming the way the world uses energy. NREL analysis informs policy and investment decisions as energy-efficient and renewable energy technologies advance from concept to commercial application to market penetration. With objective, technology-neutral analysis, NREL aims to increase the understanding of energy policies, markets, resources, technologies, and infrastructure and connections between these and economic, environmental, and security priorities. https://www.nrel.gov/
Global Energy Monitor is a network of researchers that develops and shares information on fossil fuel projects in support of the climate and clean energy movement. Current projects include the Global Coal Plant Tracker, the Global Fossil Infrastructure Tracker, the Global Coal Mine Tracker, the Global Gas Plant Tracker, the Global Steel Plant Tracker, GEM.wiki, and the CoalWire news digest.
Point of Contact:
Courtney Weatherby, The Stimson Center
Email: cweatherby@stimson.org