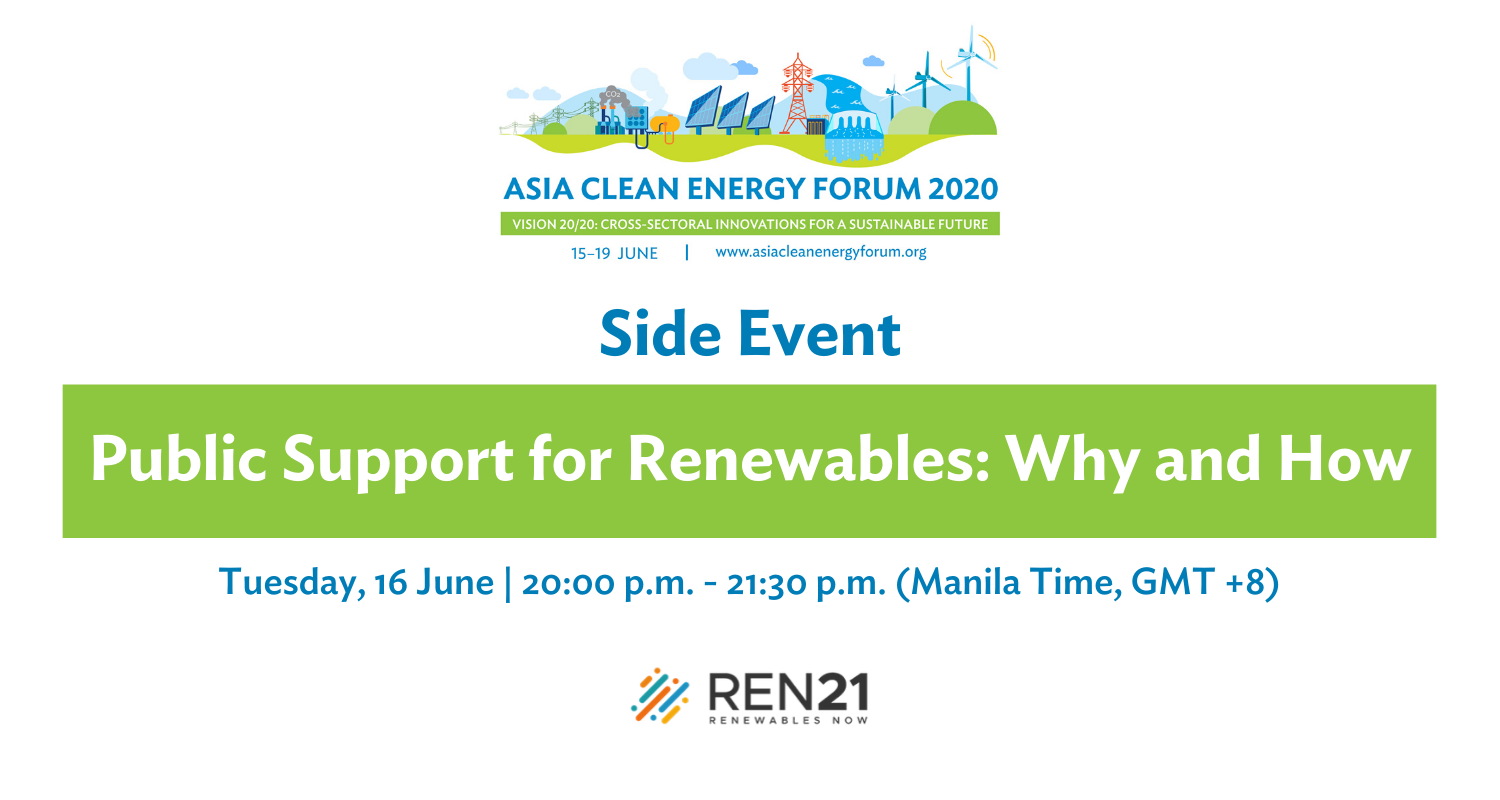 ---
Background:
Creating the right policy and regulatory frameworks is crucial to drive renewable energy uptake across the transport, heating and cooling, and power sectors. The extent and pace of deployment also depends on how these technologies are perceived – and the extent to which they are supported by the public.
A wide range of complex and inter-related factors can influence the public's perception of local or regional renewable energy projects. These include: concerns around health and environmental impacts; perceptions of the distribution of costs and benefits; and perceived fairness of the approval process.
Poor information, inconsistent messaging, lack of coordination by public authorities and the absence of public involvement (both from the public and private sectors) can all lead to public resistance and block support. It is therefore important that public authorities both nationally and sub-nationally understand what levers can be used to increase public support for, and acceptance of increased renewable energy uptake. By understanding and using these levers, e.g. policies, programmes, actions etc., public authorities can actively shape energy policy and regulations to ensure that public support underpins efforts to shift to a renewable energy future.
This side-event drew on two key REN21 publications: the newly released Renewables 2020 Global Status Report and the Renewables in Cities – 2019 Global Status Report. The workshop presented the status of renewables globally. Possible levers for improving public support for renewables were discussed as were examples of securing public support in Asia, what worked and what did not.
This event also served as the global launch of the Renewables 2020 Global Status Report.
Objectives of the Session
Good data and knowledge are needed to inform decision-makers about developments and processes that can support multi-level policy development and increase renewable energy uptake.
Through presentations and discussion participants looked at:
Key renewable energy trends and developments globally and across Asia
The role of public support in driving renewable energy uptake
Levers used to ensure public support and buy-in: Do's and don'ts
The objective of the workshop was to understand the current role of public support in the Asia region and to identify levers that can be used to help public authorities to secure buy-in necessary for increased renewable energy uptake.
Agenda
Time (Manila)
Activities
20:00 p.m.
Hello (and making sure everyone is properly connected with video and sound)
20:05 p.m.
Welcome & Context Setting
20:15 p.m.
What Happened in 2019: Key Findings from Renewables 2020 Global Status Report
20:25 p.m.
Question & Answer
20:30 p.m.
What Does Public Support for Renewables Mean in Reality: Panel Discussion

Geraint Ellis - Hyunjung Lee - Athena Ronquillo-Ballesteros

20:45 p.m.
How to Increase Public Support: Breakout Groups
Your turn! All participants
21:15 p.m.
Report Back
21:25 p.m.
Conclusion & Close
21:30 p.m.
Informal Discussion (30 Mins)
Stay online, chat and network (small breakout rooms provided)
About the Organizers
REN21: RENEWABLES NOW!
REN21 is the only global renewable energy community of actors from science, governments, NGOs and industry. We provide up-to-date facts, figures and peer-reviewed analysis of global developments in technology, policies and markets to decision-makers.
Our goal: encourage and enable them to make the shift to renewable energy happen - now.
www.ren21.net
Point of Contact:
WILLIAMSON, Laura
REN21
Email: Laura.williamson@ren21.net