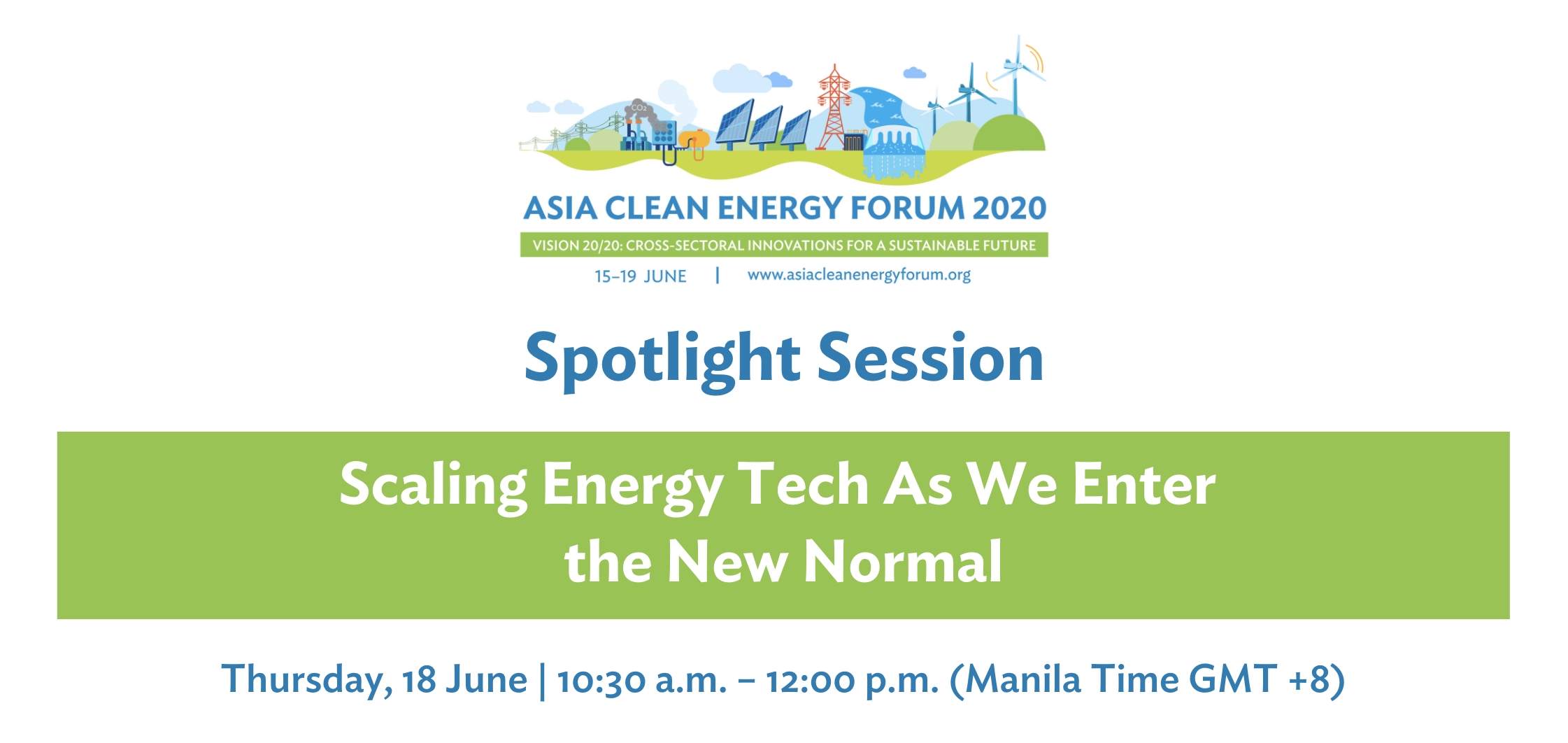 Background:
During the Asia Clean Energy Forum 2020, ADB Ventures, PFAN and New Energy Nexus co-hosted an energy- tech startup session. During the session, we showcased nine leading energy tech startups from around the world, and discussed the energy innovation and investment landscape in a post-COVID world.
Session Formats
Part I: Adapting to the New Normal:
Part I was an ACEF spotlight session with a larger audience. Speakers from ADB Ventures and New Energy Nexus set the scene by providing some initial context related to energy tech investment landscape. This was followed by short presentations from nine selected startups from three different sectors. Each startup was given 4 minutes to introduce their company. There was a brief Q&A for each sector.
Part II Startup Deep Dives:
Part II was an interactive session designed to zoom in on each startup and provide opportunity for the audience to engage and ask questions. During this session, the startups were divided into 3 sectors, each startup was allocated 20 minutes, including a 10 minutes pitch and a moderated Q&A. At the end of the session, the moderator collected information, including follow-up requests, from the audience.
Showcasing Startups
Low-carbon Buildings:
Enverid: Developing products that deliver cost savings and healthier indoor air quality (IAQ) for the built environment
Smart Joules: Smart Joules makes energy savings simple, substantial and profitable for large buildings using IoT technologies and zero investment business models.
SensorFlow: SensorFlow's proprietary wireless IoT solution helps buildings (starting with hotels) to monitor, analyse and automate energy consumption for better productivity, sustainability and energy efficiency.
Sustainable Mobility:
Tessol: Cost effective and Fuel-free cold chain distribution solutions for food and pharma products
Oyika: At Oyika, we make it easier for motorbike riders to take the electric route with battery share.
Bounce: Bounce is a smart mobility solution, with a mission of making daily commute stress-free, time-saving, reliable, and convenient.
Resilient Grids:
Village Energy: Village Energy uses AI to help utilities and communities thrive by making grid-based power cheaper, cleaner and more reliable
GridChill: AI-Driven Energy Automation and DLT Driven P2P Energy Trading that benefit homes, businesses and utilities at affordable costs
FlowGen: Combination of solar, storage and next generation scalable small wind turbines at competitive costs
Point of Contact:
Yichu Zhang, ADB Ventures (yichu@adbventures.org)
Nancy Nguyen, PFAN Asia (nancy.nguyen@pfan.net)