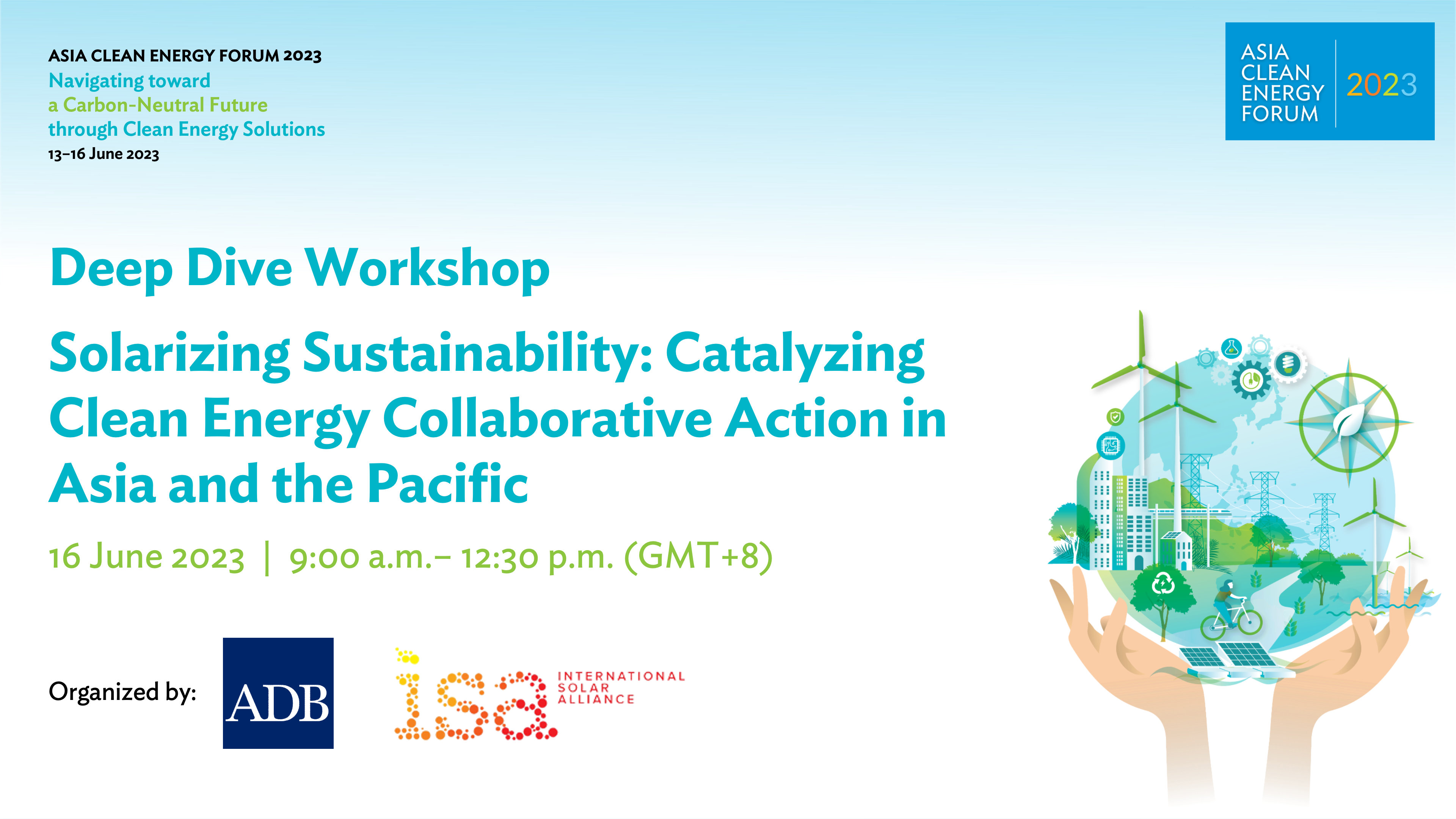 ---
Background
The ISA is an inter-governmental organisation with a membership of 114 countries (92 Member Countries and 22 Signatory Countries). The ISA provides the programmatic Support through its 9 programmes and its flagship initiatives like Solar Finance Facility, SolarX Grand Challenge and STAR-C to scale up solar applications for sustainable development and climate action.
ADB is currently supporting the ISA in implementing its programmes and activities through a Knowledge and Support Technical Assistance (KSTA or TA). The ISA aims to expand its programmes and initiatives to Asia and the Pacific region with support from ADB, as its key Partner Organisation in the region.
Description of the DDW Session:
The Deep Dive workshop will bring together three group of stakeholders; (1) Government representatives from Asia Pacific Member/Signatory Countries of the ISA and ADB, (1) Private Sector and DFIs and (3) ADB and ISA officials to deliberate on matters pertaining to the the solar energy sector in the Asia Pacific Region. Panel discussions will be conducted with opportunities for questions and engagements with the participating audience.
Target audience:
All stakeholders in the solar energy sector including policymakers, new technologies developers, manufacturers, investors and financial institutions, research and development organisations, energy utilities and grid operators, environmental organisations, Industry associations and advocacy groups.
Structure of the DDW Session:
The workshop will have two 90 minutes sessions.
First panel discussion (90 minutes): Advancing solar technologies and Opportunities in Asia and the Pacific: The panel discussion will focus on the solar technologies and applications particularly solar minigrids, solar water pumping systems and floating solar. The ISA Secretariat will present an analysis of the lessons learnt in solar project implementation and a way forward for Asia and the Pacific Region. ADB will tap into its expertise in the energy sector in the region and present its perspectives on new technologies and their uptake.
Second panel discussion (90 minutes): Innovative Financing for Solar Projects in Asia and the Pacific: The panel discussion will focus on innovative financing instruments for solar projects in Asia and the Pacific. The ISA will present its solar facility with regional focus on Asia and the Pacific. As an investment organization, ADB will moderate the session and provide technical inputs in the discussion.
Objectives
To increase regional partnership, for instance between the ISA and ADB for new opportunities in solar energy in Asia and the Pacific region.
To provide a comprehensive understanding of ISA programmes and initiatives and explore opportunities of replicating successes in Asia and the Pacific region.
To stimulate the private sector/ investors to uptake solar projects and initiatives in Asia and the Pacific Region.
To encourage the governments of Asia and the Pacific countries to create an investment friendly ecosystem through policy and regulatory support.