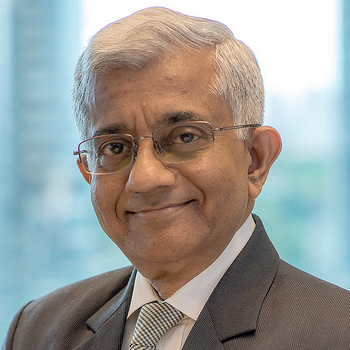 ACEF 2018 Speaker
Diwakar Gupta
Vice-President (Private Sector and Cofinancing Operations),
Asian Development Bank
---
Bio:
Diwakar Gupta is the Asian Development Bank's (ADB) Vice-President for Private Sector and Cofinancing Operations. He assumed office in August 2015.
Mr. Gupta oversees ADB's assistance to private sector projects with a clear development impact but limited access to capital. He is also responsible for building and maintaining cofinancing partnerships with various organizations and financial institutions. Under ADB's long-term Strategy 2020 framework, ADB is scaling up its support in these two areas of activities.
Mr. Gupta was Managing Director and Chief Financial Officer of the State Bank of India, where he was responsible for setting strategies and direction alongside other members of the State Bank's Central Management Committee. He joined the State Bank of India in 1974 and held several positions at its various units and subsidiaries.
Mr. Gupta also worked as Independent Director on the boards of various business councils, financial services companies and other private organizations in India.
He holds a Master of Science degree in Physics from the University of Delhi, and a Bachelor of Science degree in Physics (with Honors) from St. Stephen's College in Delhi.
Professional History
Aug 2015-Present: Vice-President (Private Sector and Cofinancing Operations) of the Asian Development Bank
2013-2015: Senior Advisor (Banking Project), Aditya Birla Nuvo Ltd., Mumbai
2011-2013: Managing Director & Chief Financial Officer, State Bank of India, Mumbai
2010-2011: Deputy Managing Director (National and Rural Banking), State Bank of India, Mumbai
2008-2009: Chief Executive Officer, SBI Card & Payment Services (P) Ltdl, Gurgaon (a joint venture with GE)
2006-2008: Chief General Manager, State Bank of Patiala, Patiala
2003-2006: General Manager/Chief General Manager, Mumbai Circle, State Bank of India, Local Head Office, Mumbai
April 2003-Nov 2003: General Manager (HR & Change Management), State Bank of India, Corporate Centre, Mumbai
1998-2003: Deputy General Manager, Corporate Accts Group Br, Chennai
Assistant General Manager, Leasing SBU, Mumbai
1995-1997: Asst. General Manager (Systems), State Bank of India, Paris
1993-1995: Asst. General Manager (Credit & Operations), State Bank of India, Paris
Education
M.Sc. in Physics, University of Delhi, Delhi
B.Sc. (Honors) in Physics, St. Stephen College, Delhi
Session/Event:
Knowledge Dim Sum with Clean Energy Entrepreneurs