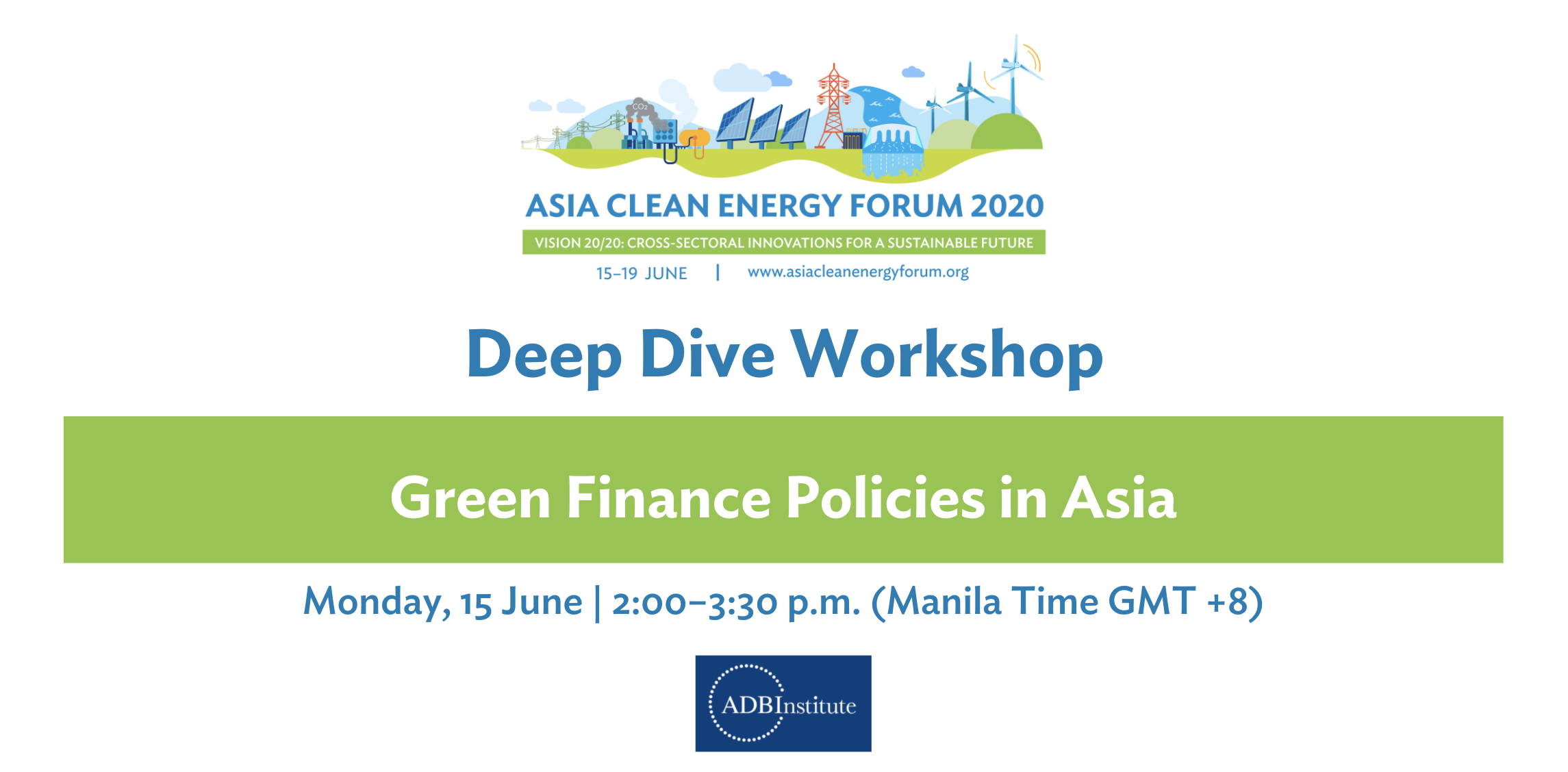 Background
The latest Intergovernmental Panel on Climate Change (IPCC) report notes the importance of mobilizing green finance to limit global warming to 1.5 degrees Celsius and preventing catastrophic climate change. Fully implementing the Paris Agreement to meet this climate target will require US$1.5 trillion in green financing annually through 2030, according to the United Nations Framework Convention on Climate Change. At the same time, raising green finance is key to meeting Asia's surging energy demand fueled by economic growth, population growth, and enhanced energy access.
A major shift in investment patterns will be needed to ignite green finance in the region, which is a growing focus of government policies. Increasingly, new measures supporting green finance are being implemented in Asia, such as green bond standards, green bond grant schemes, green loans, sustainability disclosure, and reporting requirements.
This DDW reviewed policies to promote renewable energy and energy infrastructure investment in developing countries in Asia.
Objective
The DDW aimed to stimulate policy dialogue, research, and discussions on scaling up green finance in Asia.
Agenda
Time (Manila)
Activities
2:00-2:10 p.m.
Opening Remarks and Introduction of the Workshop
Tetsushi Sonobe, Dean, ADBI
2:10-2:50 p.m.
Moderator: Dina Azhgaliyeva, Research Fellow, ADBI

Opportunities to Scale Up Clean Energy Finance and Investment Mobilisation in Emerging Asia
Cecilia Tam, Team Leader, Clean Energy Finance & Investment Mobilisation,OECD

Mitigating Climate-Related Financial Risks in the Energy Sector
Ulrich Volz, Director, SOAS Centre for Sustainable Finance, SOAS University of London & Senior Research Fellow, German Development Institute

Sustainable Finance in Asia-Pacific - Will COVID-19 Block Its Growth
Miho Kurosaki, Head of Japan & Korea Research, BloombergNEF

Market Risks and Marginal Costs: The Advantage of Renewables
Tomas Kåberger, Chair of Executive Board, Renewable Energy Institute
2:50-3:25 p.m.
Q&A from the Audience
Moderator: Linda Arthur, Senior Capacity Building and Training Specialist, ADBI
3:25-3:30 p.m.
Closing Remarks
Tetsushi Sonobe, Dean, ADBI
About Organizers
Asian Development Bank Institute (ADBI) is the world's top ranked government affiliated think tank, according to the latest Global Go To Think Tank Index Report by the University of Pennsylvania Think Tanks and Civil Societies Program. ADBI provides intellectual input for policy makers in ADB's developing member countries (DMCs). It does so by conducting research with a focus on medium- to long-term development issues of strategic importance that affects the region and through capacity building and training (CBT) activities that contribute to ADB's overarching objective of poverty reduction. The objectives of ADBI are to identify effective development strategies and improve the capacity for sound development of the agencies and organizations engaged in development work in ADB's DMCs. ADBI focuses its activities on areas where it has a strategic advantage, such as the analysis of emerging policy issues from regional as well as medium- to long-term perspectives, and the facilitation of policy dialogue among senior DMC policy makers. ADBI also seeks to enhance its visibility, impact, and accessibility through high-quality knowledge products and services. It strives to be a trusted source of insight, knowledge, and information to which policy makers, academics, and others interested in Asia's development issues turn for guidance. For more details, visit https://www.adb.org/adbi/about
The Organisation for Economic Co-operation and Development (OECD) is an international organisation that works to build better policies for better lives. Our goal is to shape policies that foster prosperity, equality, opportunity and well-being for all. We draw on almost 60 years of experience and insights to better prepare the world of tomorrow. Together with governments, policy makers and citizens, we work on establishing evidence-based international standards and finding solutions to a range of social, economic and environmental challenges. From improving economic performance and creating jobs to fostering strong education and fighting international tax evasion, we provide a unique forum and knowledge hub for data and analysis, exchange of experiences, best-practice sharing, and advice on public policies and international standard-setting. For more details, visit https://www.oecd.org/about/
The SOAS Centre for Sustainable Finance aims to advance the transition to an equitable, low-carbon economy by providing a forum for interdisciplinary research and teaching on sustainable finance and investment. It seeks to enhance the knowledge and understanding of sustainable finance in both the Global North and South and act as a focal point for policy debates in this area. Located at SOAS, University of London, in the heart of one of the world's leading financial hubs, the Centre's research focuses on pressing issues including green financial governance; the impact of climate risks on public and corporate finances; the scaling up of low-carbon and resilient investment in vulnerable countries; ESG standards; climate risk insurance; mobilising financing for the Sustainable Development Goals; low-carbon innovation policy and renewable energy investments; and the role of public financial institutions in advancing the green transition. The Centre is part of the Global Research Alliance for Sustainable Finance and Investment, a network of leading research universities, as well as the International Network for Sustainable Financial Policy Insights, Research, and Exchange (INSPIRE), a global research network that feeds into the work of the NGFS. It is also a knowledge partner of the Green Growth Knowledge Partnership and the Asia Sustainable Finance Initiative, and host to the Sustainable Finance Data Initiative, an innovative new venture gathering data on inflows and outflows of climate and sustainable finance in developing and transition economies. For more details, visit https://www.soas.ac.uk/centre-for-sustainable-finance/
BloombergNEF (BNEF), Bloomberg's primary research service, covers clean energy, advanced transport, digital industry, innovative materials and commodities. We help corporate strategy, finance and policy professionals navigate change and generate opportunities. For more details, visit
https://about.bnef.com/about/
Renewable Energy Institute is a non-governmental institute focusing on the development of renewable energy. The institute supports industrial development as well as policy development. The institute was set up in 2011 based on an initial donation by the strategic entrepreneur Masayoshi Son to help the world avoid the risks of further nuclear accidents and climate change. Reports, events, and short columns on energy developments are available on the website. For more details, visit renewable-ei.org
Point of Contact
Dina Azhagaliyeva, ADBI
Email: dazhgaliyeva@adbi.org