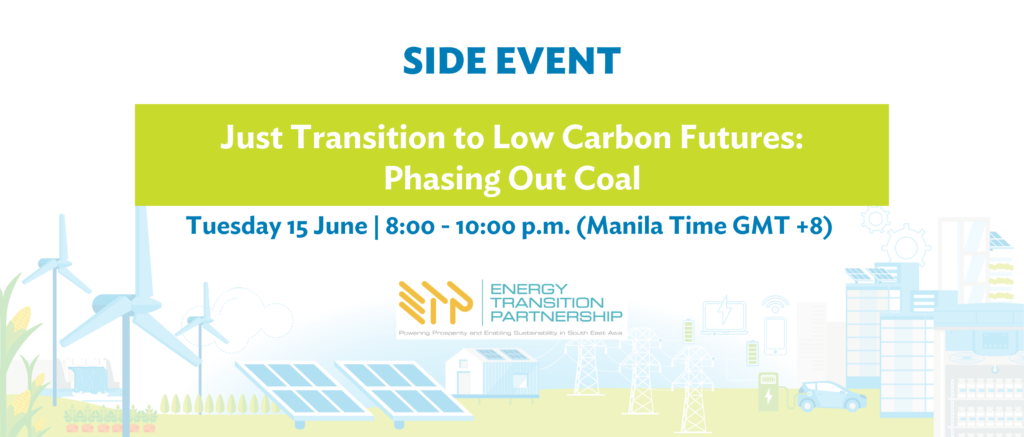 Background
While Southeast Asian countries have committed to the stated regional goal of 23% of renewables in the energy mix and the nationally determined commitments for greenhouse gas reductions under the Paris Climate Agreement, coal still dominates its energy production in the Region. Indonesia, by some statistics, is the world's greatest coal exporter, and many Southeast Asian countries have become coal importers to fuel their economies. Concurrently, Southeast Asia's rapidly growing economies, Indonesia, the Philippines and Vietnam, are hungry for energy, and electricity demand is expected to double by 2035, and in some countries by 2030. This trend provides opportunities for a direct transition to low carbon energy and electricity production. However, achieving the national climate objectives is a challenge as coal remains a fundamental source fuel for the energy sector. In view of the nearing climate target timelines, amassing climate warming implications on the Region's economies, the calls for reduction in pollution levels and greenhouse gas emissions, Southeast Asia faces competing pressures.
The Southeast Asian economies, however, are not alone facing the need for transition, many countries are already taking steps toward low carbon commitments, with China having declared its aim to move into net zero carbon emissions by 2060. Southeast Asia is now also embarking on a dialogue regarding just transition to low carbon economies.
Just transition requires plans and policies, and coordination of efforts across the global and regional political leadership, among the many stakeholders standing to be affected by the transition. A well-structured and prudent just transition programming is paramount. Organization is a key. Region's outside of Southeast Asia have benefited from communities of practice and stakeholder platforms that bring together a 'coalition of the willing'. Such platforms enable development of the required knowledge base for addressing th complexities and depth of issue analysis that is required for a massive change management program ensuing from the coal phase out process. The issues range from a need for systematic initial diagnosis on the alignment of energy transition with just transition in the context of the national policies and commitments, including the nationally determined contributions and multidimensional and interdisciplinary assessments of the macro-and microeconomic impacts of the transition, as well as risk assessments. One size does not fit all in terms of options and alternatives. Under the second phase of closure considerations of mines and coal-fired power plants, workers and communities dependent on fossil fuels for livelihood will not find alternative sources of income and revenue overnight.
Identification of alternative industries and sources of livelihoods will require significant policy intervention and careful assessment and support to those standing to lose from the transition. Just transformation is not only about chasing out polluting sectors, it is also about new jobs, new industries, new skills, new investment and the opportunity to create a more equal and resilient economy. Socializing the concept of broad-based change is critical for developing a mindset among the policymakers, industrialists, and the affected communities toward alternative livelihoods. Thirdly, a global movement is emerging from the experiences in coal-dominated countries that have made the turn to low carbon futures. However, global platforms need to become meaningful information exchange forums and knowledge expansion opportunities. A regional stakeholder platform offers an approach that can encompass incumbents in the just transition process, providing the required level of knowledge needed for prudent decision-making and action and for bringing the Region's economies into the transition process together at similar speeds to ensure sustainable and shared results for a fundamental and just transition.
Objectives
A just transition seeks to ensure that the substantial benefits of a moving toward low carbon future are shared widely among the countries, regions, industries, communities, workers and consumers. The UN Sustainable Development Goals collectively represent the agenda of just transition, particularly the goals of decent work for all (Goal 8), clean energy for all (Goal 7), climate protection (Goal 13) and poverty eradication (Goal 1). As policies and technologies internationally move rapidly forward, the dialogue on just transition has also begun in Southeast Asia.
As the donor agencies supporting the region's economies are turning to identify pathways to approach the region's just transition needs, this Side Event offers structure to this planning process and brings to the conversation important aspects from global diagnostic and experience. It is intended to awaken interest among the region's policymakers and launch a discussion on a possible structure for making concerted and coordinated headway toward the outcomes of just transition, low carbon economies in Southeast Asia.
Agenda
Time (Manila)
Activities
08:00 - 08:05 p.m.
Opening Remarks
08:05 - 08:25 p.m.
(1) Comm. Eph Amatong/ (2) Michael Sheren: Commissioner of Securities Exchange Commission, PHI/ Senior Advisor, Bank of England
08:25 - 08:35 p.m.
Michael Stanley: Extractive Leads, Energy and Extractives, World Bank
08:35 - 08:45 p.m.
Udetanshu: Consultant at Rocky Mountain Institute
08:45 - 08:55 p.m.
Francis Pigeon: Director of Climate Finance and Partnerships at Environment and Climate Change Canada
08:55 - 09:05 p.m.
David Elzinga: Senior Energy Specialist, ADB
09:05 - 09:15 p.m.
Michael Williamson: Section Chief, Energy Division, ESCAP
09:15 - 09:25 p.m.
Cristina Martinez: Asia-Pacific Coordinator - Green Jobs, Climate Change & Just Transition, ILO
09:25 - 09:35 p.m.
Joscha Rosenbusch: Director of Program "Innovation Regions for a Just Energy Transition", GIZ
09:35 - 09:45 p.m.
Fiza Farhan: Global Strategic Development Advisor and Member of the UN SG High Level Panel
09:45 - 10:00 p.m.
Discussions and Comments
Closing Remarks
About Organizers
The Energy Transition Partnership (ETP) is a new platform that brings together philanthropies with governments to accelerate energy transition in Southeast Asia and support the countries achieve the SDGs and the Paris Agreement targets. ETP aims to empower its partner countries in their transition to maximize energy efficiency, unlock investment for renewable energy, expand smart grids, and enhance knowledge and awareness building.
Point of Contact
Yuchong Nam (CHONG), Southeast Asia Energy Transition Partnership
Email: yuchongn@unops.org