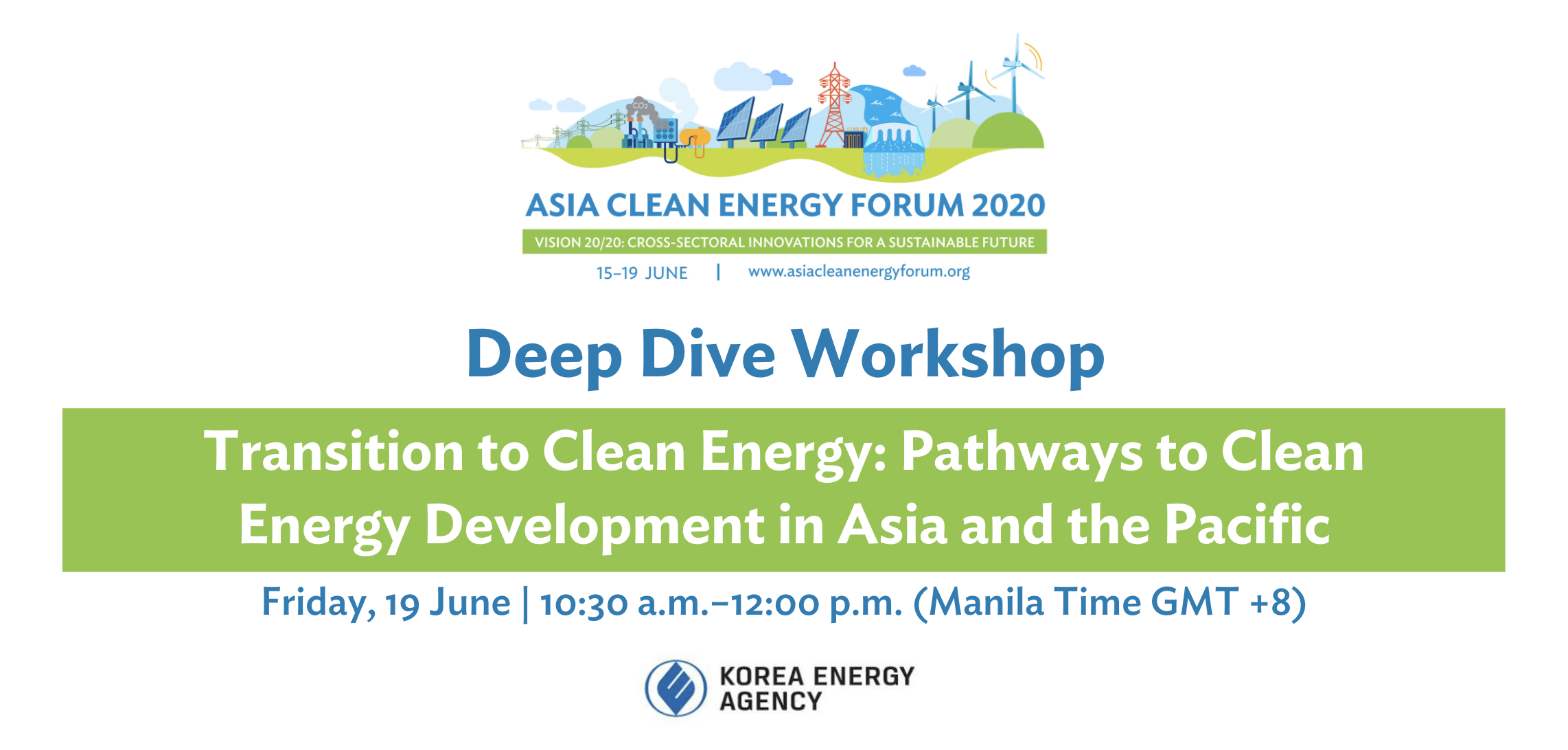 Background
Asia and the Pacific represents a dynamic region of the world accounting for more than half of global energy consumption and is the largest carbon dioxide (CO2) emitter in the world.
Making the transition to a sustainable and low-carbon energy future is an undeniable imperative for Asia and the Pacific to attain clean, affordable, reliable and sustainable energy for all. The 2015 Paris Agreement on Climate Change, the Nationally Determined Contributions (NDCs) and the Sustainable Development Goals (SDGs) have created a strong framework for the governments in Asia and the Pacific to move beyond business as usual and to search for a new energy paradigm.
In particular, the Government of Korea is exerting its best efforts in making energy transition to a safe and clean energy system for sustainable environment and prosperity. As part of such efforts, the Government of Korea formulated "Energy Transition Roadmap" and "Renewable Energy 3020 Implementation Plan" in 2017 by setting a goal of producing 20% of its energy from renewable sources by 2030. The Government of Korea further announced its "Hydrogen Economy Roadmap" in 2019 outlining the goal of producing 6.2 million fuel cell electric vehicles, rolling out at least 1,200 refilling stations and 41,000 hydrogen buses, and supplying 15 gigawatt of fuel cell for power generation by 2040.
The Association of Southeast Asian Nations (ASEAN) is one of most dynamic and fastest growing economic regions in the world, and ASEAN Member States have intensified their efforts to ensure a secure, affordable, and sustainable pathway for the energy sector. The demand in primary energy in the region is expected to grow by an average of 3.4% per year from 627 million tons of oil equivalent (Mtoe) to reach 1,450 Mtoe in 2040, according to the ASEAN Center for Energy's (ACE's) 5th ASEAN Energy Outlook. To address the rapidly growing demand for energy and increasing CO2 emissions, ASEAN Plan of Action for Energy Cooperation (APAEC} 2016-2025 sets an aspirational target of a 23% share of renewable energy in ASEAN's total primary energy supply by 2025, and energy intensity reduction by 20% by 2020 and 30% by 2025 from the 2005 levels.
Likewise, the Government of Bangladesh has set a target of increasing the share of renewable energy to 10% by 2021, and reducing the energy intensity by 15% by 2021 and 20% by 2030 compared with 2014 levels. On the other hand, Bangladesh's Nationally Determined Contributions (NDC) entails an unconditional contribution to reduce greenhouse gas (GHG) emissions by 5% from business as usual (BAU) levels by 2030, and a conditional 15% reduction in GHG emissions from BAU levels by 2030 subject to appropriate international support. The 'NDC Sectoral Mitigation Action Plan for Power' provided a roadmap for achieving these targets.The robust economic growth achieved in the past decades in Bangladesh has been accompanied by rapid increases in energy consumption and CO2 emissions. Fast transition to clean energy is crucial for the country to address the challenges of meeting the fast-growing demand for energy in a sustainable and climate resilient development path.
Building on the continued close cooperation and joint efforts between Korea Energy Agency (KEA) and Asian Development Bank (ADB) since 2012 on promoting clean energy initiatives in Asia and the Pacific countries through knowledge sharing, joint project undertakings, technical advisory services, and facilitating investments, KEA and ADB jointly organized this deep dive workshop (DDW) during the ACEF 2020.
Objective
To provide a venue to share regional as well as Korean polices, roadmaps, experience, knowledge, and lessons learned to take energy transition forward in Asia and the Pacific;
To enhance the understanding of future energy system, responding to the new challenges of developing high-level technologies and innovations to ensure successful energy transition in Asia and the Pacific; and
To identify opportunities for future collaboration for accelerated energy transition in Asia and the Pacific.
Agenda
Time (Manila)
Activities
10:30-10:35 a.m.
Opening Session

Welcome Remarks
Young-Man Woo, Director General, Global Project Division, Korea Energy Agency

10:35-11:55 a.m.
Moderator: Pil-Bae Song, Senior Clean Energy Advisor (Consultant), ADB

Presentations

Sangjun Lee, Head/Research Fellow, Korea Energy Economics Institute Korea's
Energy Transition: Status and Strategies

Rizky Aditya Putra, Senior Officer of APAEC Programme, ASEAN Center for Energy
Policy and Strategy for Transition to Clean Energy in the ASEAN Region

Siddique Zobair, Former Additional Secretary and Member, Sustainable and Renewable Energy Development Authority, Bangladesh
Transition to Clean Energy in Bangladesh: Status and Future Direction

Pil Seok Kwon, Director, Green Energy Strategy Institute
Decarbonization Strategies through Sectoral Integration – for the Case of Korea

Q&A

11:55 a.m.-12:00 p.m.
Closing Session

Closing Remarks
Kee-Yung Nam, Principal Energy Economist, Asian Development Bank
About the Organizers
Korea Energy Agency under the Ministry of Trade, Industry and Energy of the Government of Korea was established in 1980 to reduce greenhouse gas emissions and to contribute to the healthy economic development through efficient implementation of energy use rationalization projects.
Asian Development Bank is committed to achieving a prosperous, inclusive, resilient, and sustainable Asia and Pacific, while sustaining its efforts to eradicate extreme poverty. Established in 1996, it is owned by 68 members—49 from the region.
Point of Contact
Kyoung-Min Kim, KEA
Email: Titae80@energy.or.kr
Pil-Bae Song, ADB
Email: psong.consultant@adb.org