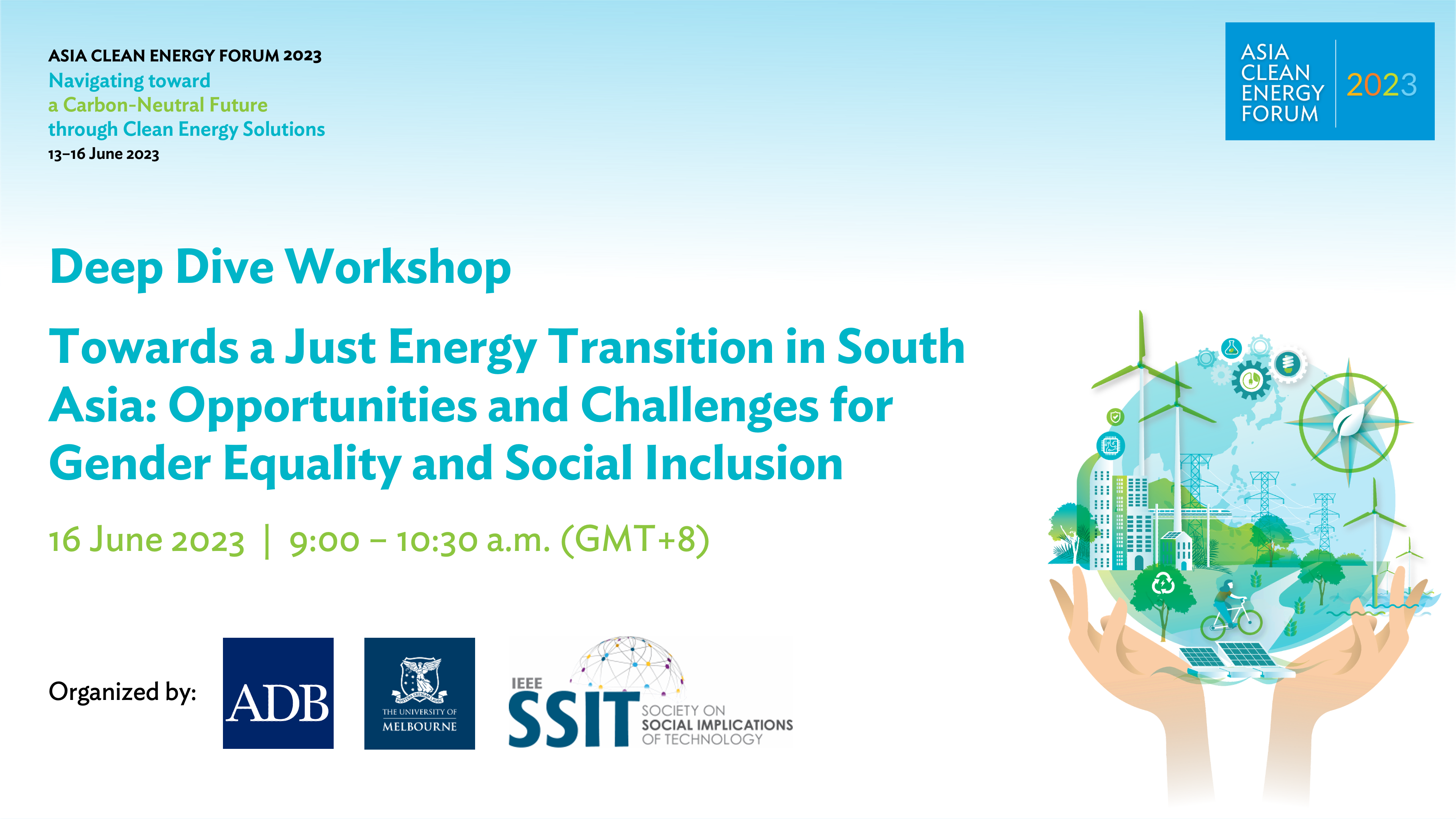 ---
Background
A transition to a carbon-neutral economy is essential to prevent climate change reaching a point where mitigation is impossible. Because of the centrality of fossil fuel use in creating carbon emissions, the energy sector is of key importance. In 2019, atmospheric CO2 concentrations were higher than at any time in at least 2 million years, with the largest share and growth in gross GHG emissions occurring in CO2 from fossil fuels combustion and industrial processes (IPCC 2023). The Asia Pacific region is expected to play a crucial role in tackling climate change as it is responsible for about half of the current global carbon emissions. Reducing emissions means transitioning to clean energy. The ADB "Energy Policy: Supporting Low-Carbon Transition in Asia and the Pacific" is an important contribution to providing a policy framework for the clean energy transition in the South Asia region. The ADB 2030 Strategy Operational Priority 2 (Accelerating Progress in Gender Equality) has a target to include at least 75% of the number of ADB's committed sovereign and non-sovereign operations incorporating gender elements. To achieve these targets integrating gender elements in the ADB clean energy transition programs is essential.
Key features of the clean energy transition will include catalyzing green growth, deepening social inclusiveness and promoting public private partnership synergies. A clean energy transition has implications for non-energy sectors, such as waste management, transport, and agriculture (all responsible for significant greenhouse gas emissions).
Catalyzing green growth. Smart grid and deployment of distributed energy resources is blurring the traditional divide between the utility-led supply side and the consumer-led demand side. Technological innovation is opening opportunities for demand side participation in the operation of the power system and in the energy market, with potentially significant implications for residential consumers and small and medium enterprises, providing opportunities to promote GESI in the clean energy transition.
Deepening social inclusion. Planning for a Just Transition will be critical in managing this process, to mitigate negative socioeconomic impacts and increase opportunities associated with the transition. Key considerations to guide a 'just transition' include: (a) universal access to quality energy services; (b) 'no worker and community left behind', so that workers in industries that need to be transitioned away from should have social protection, alternative, satisfactory employment options, including retraining, and alternative livelihoods and social protection for affected and vulnerable communities; (c) addressing gender employment gap, including women in STEM industries; (d) groups in the frontlines being part of the decision making and leadership of their transition, through utilisation of traditional, indigenous and local knowledge.
Promoting public private partnership synergies. The financing needs for a just transition are enormous. Increasingly, the private sector is looking for ways to invest in low-carbon solutions, because such investments offer competitive risk-return profiles. Innovative financing is key to stimulating private investment.
These new challenges require a new approach that integrates the physical environment and infrastructure, social environment, economic environment, planning and resourcing for resilience and governance, focusing on gender equality and social inclusion (GESI). GESI and decarbonization are essential, inter-connected and inter-related aspects of a Just Transition towards sustainable systems and societies.
Objectives
Identification of opportunities and challenges for GESI in the clean energy transition and pathways towards a just energy transition, based on international experiences and promising practices applicable to South Asia.