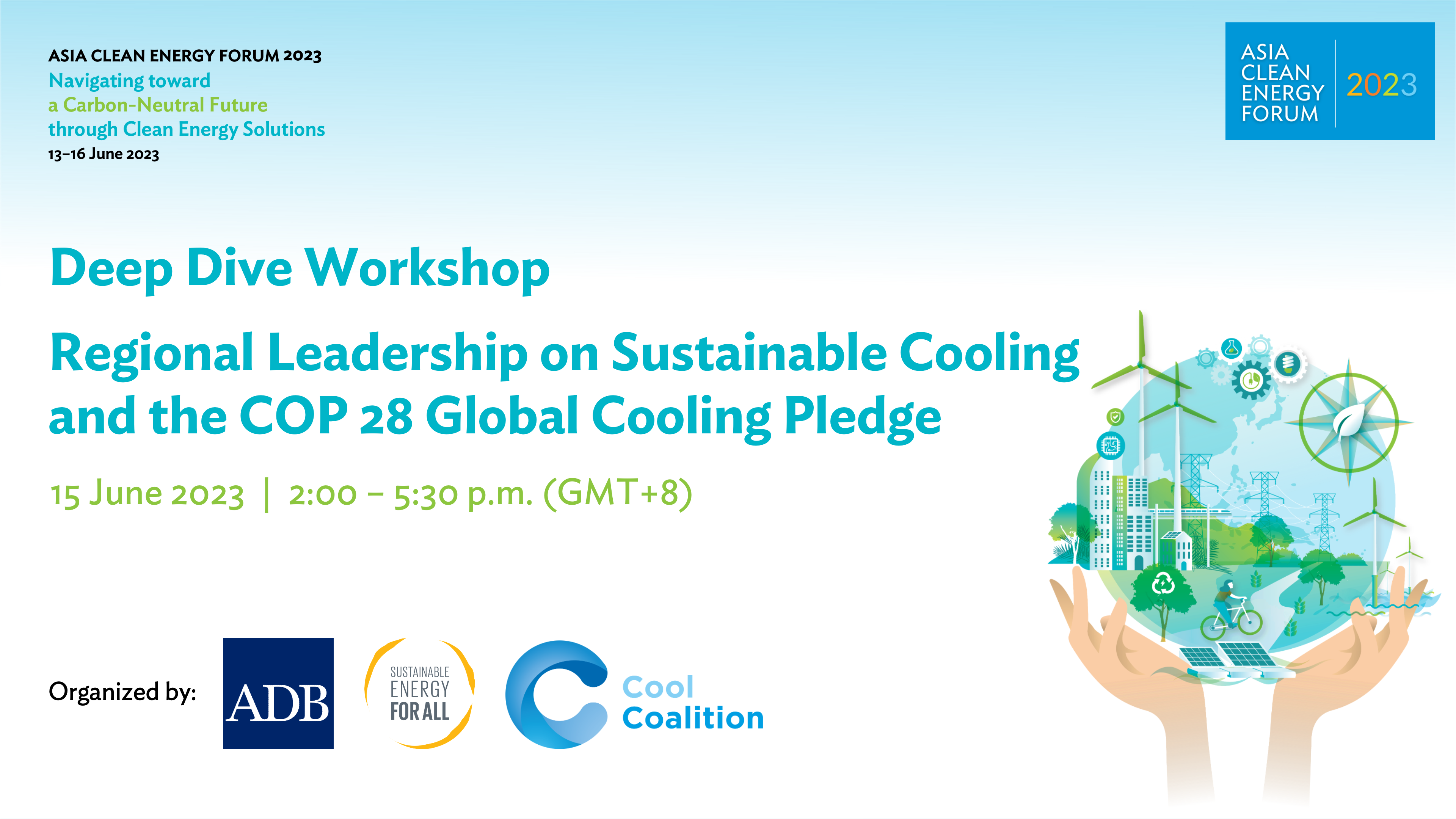 ---
Background
In a warming world access to sustainable cooling is a key climate mitigation and adaptation strategy - reducing emissions, providing protection from heat stress, enabling productive work, supporting human well-being, reducing food loss, and enhancing access to healthcare and medicines. Yet over 3 billion people lack access to sustainable cooling solutions and cooling already accounts for over 7% of global emissions. As a top driver of global energy demand in Asia in the coming decades, this challenge must be met now with demonstrated leadership from countries, cities, and the private sector.
With support from the Cool Coalition, SEforALL and IRENA, the UAE COP 28 Presidency is championing the development of the Global Cooling Pledge, which will serve as an opportunity for ADB Developing Member Countries to demonstrate leadership and showcase solutions at COP 28. In partnership with the ADB, the UK Government and UNEP, this session will highlight recent regional leadership on sustainable cooling policy, innovation, finance, and technology across Asia-Pacific, and also to provide a forum for participants to shape and learn more about the Global Cooling Pledge.
Objectives
To discuss innovative technologies, new opportunities and partnerships that can deliver results for sustainable cooling.
To explore country actions on sustainable cooling and offer insights into policies that can reduce greenhouse gas emissions from the cooling sector.
To discuss the COP 28 Global Cooling Pledge and why it is necessary for Asia-Pacific to take active leadership.
Opening
Welcome, Agenda Review and Audience Interaction Poll(5 Minutes)
Ben Hartley, Principal Specialist, Energy Efficiency and Cooling, SEforAll
Welcome Address: Regional Progress on Sustainable Cooling and the Climate and Energy Imperative in the ADB Region (10 minutes)
Kee-Yung Nam, Principal Energy Economist, Asian Development Bank
---
Session 1: Technology and Business Model Innovation for Sustainable Cooling
Opening Keynote and introduction of the panel (10 minutes)
Dr. Peter Warren, Climate Innovation & Finance, UK Government (Department for Energy Security and Net Zero)/li>
Panel discussion on technology innovation and business model innovation for sustainable cooling (45 minutes)
Including 2-minute opening interventions (no slides) from each panelist followed by questions, including from the audience.
Dr. Beta Paramita, Program Manager, Cool Roofs Indonesia: The Power of Passive Cooling in Indonesia

Anurag Agarwal, Co-Founder, New Leaf Dynamic: Innovation in Refrigeration

Sustainable Cooling Financier

Country Official: Thailand or Philippines
---
Session 2: Policy Stock Take, Regional Leadership, and the Global Cooling Pledge
Progress on Regional Cooling Policy (10 minutes)
Ms. Lily Riahi, Coordinator, Cool Coalition
Panel discussion: Country Leadership and Opportunities to Support the Global Cooling Pledge (40 minutes)
Additional consultation and contributions from workshop attendees on the Global Cooling Pledge (30 minutes)
Open session: How ADB Member Countries can support the Global Cooling Pledge.
---
Participant Feedback Form and Closing Remarks (10 minutes)
Ben Hartley, Principal Specialist, Energy Efficiency and Cooling, Sustainable Energy for All